Water Purifier Material
ORP ceramic ball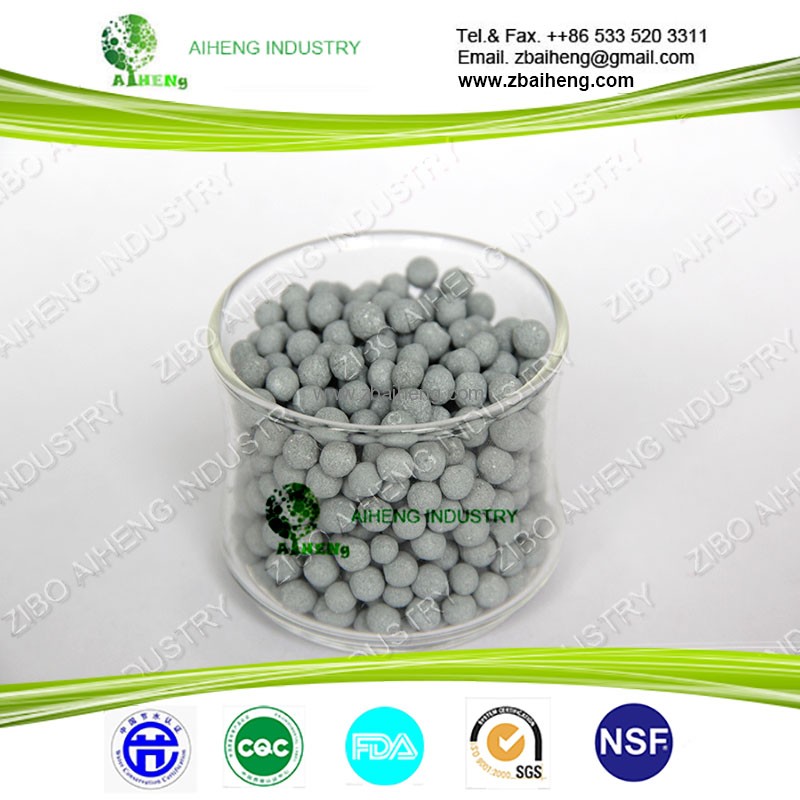 Model:AH-ORP
Company:
Price:
Feedback
1. Can we drink Ro water directly?
Of course, No! RO water is not so good to our body, Our body need alkaline water , but Ro water PH only around 5.5-6.5. And research certify our body need around PH 7.5-8.5. Which can anti-disease, and Cancer!!! Second, RO water no minerals, our body need Ca, Zn, Se ect . So we need alklaine and mineral water. which can supply by ceramic ball
2.How to use Ceramic balls?
First, for RO system , we need to load an 10inch or 12 inch filter(You can see our web) load our cermaic balls, which mostly suggest load Alkaline ceramic ball, ORP ceramic ball, And Ca ion ceramic ball, Far infared ceramic ball. after RO system, which can change the RO water rich for minerals and Alkaline water.
Second, For tap water , Most tap water rich in Chloride and smell, impurities. So for Tap water, we suggest load one filter load Dechloride cermaic ball .Carbon .Enough
3.Is ceramic ball Safe or not?
Aiheng's Ceramic ball all made by nature ores, and the raw material before used in produce, we need to do around 3 times test by around 3 test institution, Which to be sure the material no heavy metal, no toxic than we can use it . And during the procceed , Our balls mostly through around 1200 tempeture and heating in stove for 24 hours.
ORP ceramic ball
Type:AH-FDW
Color:Gray or customized
Specification:Diameter 2-15mm customized
1) Introduction:
ORP ceramic ball, Which are Nature Mineral ores, Mg powder, and mineral tourmaline, high-grade clay, Anti-bateriea powder, Far infared powder ,through ball grinder , then be Heated in 800 high temperature stove for more than 10 hours.
2) Composition:
3) Size: Normal size 1-2mm,2-3mm,3-4mm,4-5mm,5-6mm, for big size can be done as request
4) Function :
For ORP ceramic ball ,has strong Oxidation Reduction Potential function, when meet water, it can break up the water

molecule to be OH- , can make the purity water ORP from+200mv to -300mv or more, and Adjust the water PH very big scale.

ORP balls when meet water, can release some Zn+,Which can kill golden staphylococcus>90% Resisting and killing colibacillus>90% , and can prevent the bacteria

Water through ORP balls, has great sobubility, and strong penetration.

Which can emulsify grease. So it can ease symptoms caused by high-protein, high-calorie diet.

Water with ORP balls, which can similar to our body water situation, and make our Cells maintain vibrant health
5) Test data:
Take 20g ORP balls, wash three times before use by top water. And add 200ml purity water, the test date as follows:
Load 400g ORP balls in a 12 inch filter, setting after RO system, the 2-3 L/ MIN flow rate, the PH can reach 9.0 at first. ORP reach -300MV-400MV
Shelf time: for 20g ORP balls can treat 200L water.
ZIBO AIHENG INDUSTRY IS SPECIAL for BIo ceramic ball manufacture and research, Our main products are ceramic balls for purity drinking water, and now our products are well sold is USA, Brazil, Japan, Korea, Germany, Poland, ect